*
St. Luke's Orthopedic Expertise Helps Bernadette Dance at Son's Wedding
February 22, 2023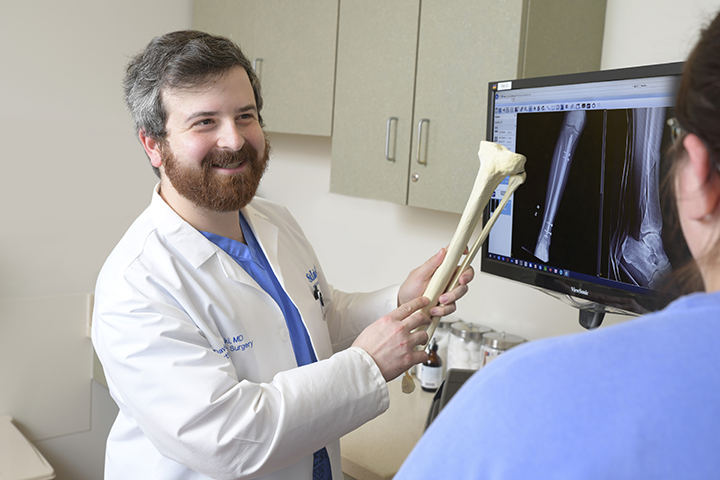 Orthopedic trauma surgeon Dr. David Ramski of St. Luke's Orthopedic Care
After Bernadette Clay of suburban Philadelphia broke her lower leg when she ran into a box of small trees at her vacation home in the Poconos, expert surgery from fellowship-trained St. Luke's orthopedic trauma surgeon David Ramski, MD, helped get her back on her feet and dancing at her son's wedding just eight weeks later.
St. Luke's University Health Network is home to the Lehigh Valley's largest orthopedic residency training program. As the Lehigh Valley's leader in orthopedic medical education and research, St. Luke's Orthopedic Care employs the region's top orthopedic doctors, such as Dr. Ramski, who offer the latest innovation and advances in bone and joint care.
Bernadette's travails – and amazing comeback – began April 2022. She tried taking a quick restroom break – in the dark – while watching The Ten Commandments. She accidentally ran smack into a box of birch trees that were being used as wood for new handrails. She ran into it so hard that she shattered the tibia and fibula in her right leg.
Her husband Anthony, a nuclear cardiologist in the Philadelphia region, wanted to take her back to the city, but Bernadette said the pain was so severe that she didn't think she could make it, so they rushed to St. Luke's Monroe Campus, where Dr. Ramski was on hand and took charge of the situation.
"Her main injury was her tibia shaft, fracture extended down to her ankle cartilage and the fibula was fractured as well," Dr Ramski said.
The injury was severe and potentially debilitating and required almost immediate surgery. Dr. Ramski performed an intramedullary nail fixation of the tibia – basically a rod inside the length of the bone – locked into place with bolts at each end of the rod. Her injury also required percutaneously placed screws at the distal tibia, and a flexible nail for fixation of her fibula fracture.
This type of trauma surgery to the lower leg can go wrong in a multitude of ways with complications including infection, blood clots that can travel to the lung, or compartment syndrome, where blood and fluids accumulate in the lower leg.
"The tibia is a bone that does not always heal and an injury to it can progress to malfunction if it doesn't remain straight," Dr Ramski said.
It can take up to 6-9 months following the procedure for everything to heal properly, but Bernadette had a different goal in mind. The author of a children's allegorical book on bullying and empathy, wanted to dance at the wedding of her middle son last June, just two months after the operation.
Because Bernadette lived in the Philadelphia area, she did her physical therapy there, but Dr. Ramski wanted her to stay off the leg for a full six weeks in order to give it the best chance to mend properly.
"She was amazing and had minimal pain," Dr. Ramski said. "She's made a fantastic recovery. Sometimes these procedures take a full year to heal or need repeat surgery, but she was able to do everything we asked of her. She was highly motivated to dance at her son's wedding."
And true to her will and determination, Bernadette brought in her four–inch heels, showed them to Dr. Ramski, and got his blessing to dance in them at her son's wedding.
"I call them my revenge heels," she joked. "I recovered like an NFL player. I even skied twice this winter already. Because my husband is a doctor, he can be pretty intimidating and hard to please, but he was so happy with Dr. Ramski and his care, and so am I."