*
Hip Dysplasia and Your Child –<BR> Learn About Treatment Options with St. Luke's Pediatric Orthopedic Care
October 24, 2022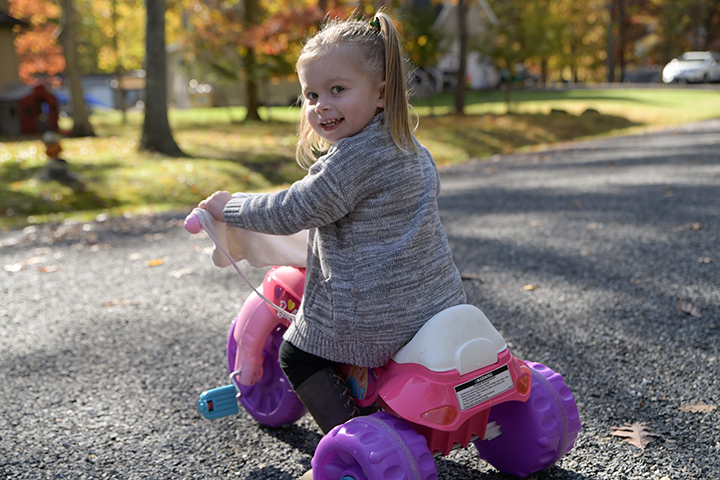 Myla Meckes was born with hip dysplasia. After corrective surgery, she is a happy and active toddler.
Whitney Laba experienced one of the most terrifying, helpless feelings after her newborn daughter Myla was diagnosed with hip dysplasia.
And then COVID-19 ruined the chance for early intervention.
"It was petrifying, absolutely petrifying," Whitney recalled. "I had never even heard of hip dysplasia and that made me even more concerned."
What is hip dysplasia?
Hip dysplasia is a relatively common affliction, occurring in roughly 1-in-1,000 infants, according to the National Institutes of Health. Girls are about twice as likely to be born with the condition. It occurs when the ball part of the hip joint can come out of the socket.
"Babies born with hip dysplasia are often asymptomatic," explained Nicholas Grimm, DO, a pediatric orthopedic surgeon with St. Luke's Orthopedic Care. "It is typically picked up on the pediatrician's newborn exam."
Hip dysplasia occurs more commonly when babies are born in a breech presentation, and also when there is a strong family history of it. Physical clues are evident by physical manipulation if the joint seems loose or clicks.
Doctors use ultrasounds when the infant is six weeks old to confirm the diagnosis. Hip dysplasia can range from an underdeveloped hip joint to a full dislocation. When the ultrasound shows an abnormality, patients are referred to a pediatric orthopedic surgeon.
Pediatric orthopedic surgeons have completed an orthopedic residency and have additional specialized training in the orthopedic care of children.
"All babies are born with hips that aren't necessarily fully developed. At a young age, these bones are mostly cartilage," Dr. Grimm said. "In order for both of those to form normally over time, they have to stay located with each other. Any incongruity can result in long-term changes as the child grows."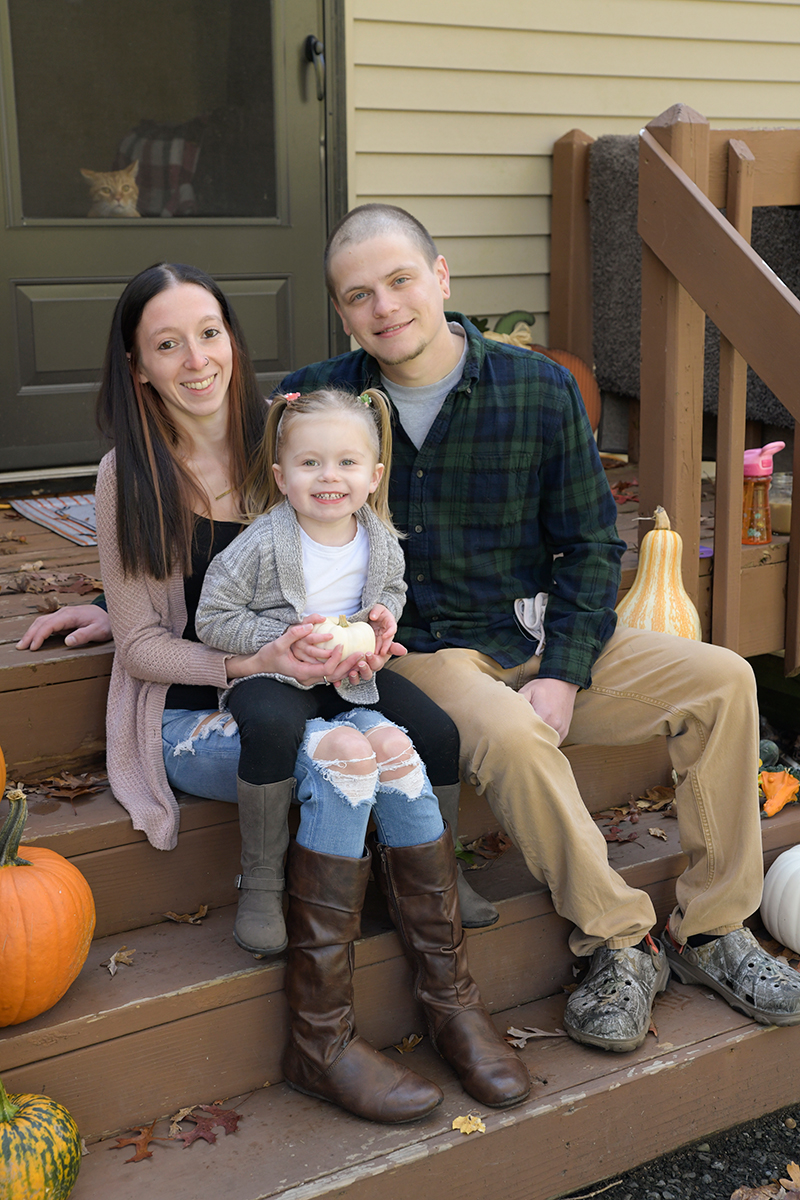 Myla is all smiles as she relaxes with mom, Whitney and dad, John,
as her kitty watches from the screen door.
How is it treated?
The least invasive treatment requires the use of a Pavlik Harness, a special harness that keeps the baby's hips and knees bent, and the thighs spread to keep that hip-socket relationship on a normal growth path. The most invasive treatment is surgery.
The harness wasn't working for Myla, so surgery was required. Surgery – called "open reduction" – is generally required if the child reaches 12 months without successful treatment,
Whitney initially took Myla to a Philadelphia hospital, but COVID-19 hit, and her surgeries were postponed several times, making the trips to Philadelphia frustrating.
Myla's pediatrician recommended Dr. Grimm, and Whitney's fears were soon alleviated.
"He was very informative about everything, and you could tell he cared," Whitney said. "He has children and I trusted him more because he had those young children. He explained everything he was going to do step-by-step."
Myla was almost two when she had the corrective surgery. She was placed in a full body cast from her breastbone down both legs, which was replaced midway through her three months of wearing it.
"She's very independent and I thought it was going to be horrible," Whitney said of seeing Myla in the cast, "but she handled it 1,000 times better than we anticipated. She never cried in pain or got frustrated, and at that age, you can't even explain to them what is going on."
After the cast was removed, Myla was placed in a hip abduction brace, or a rhino cruiser. Physical therapy plays an important role so the babies can develop proper standing and walking functions.
Today, about a year after surgery, Myla is running around like a typical three-year-old, and mom and dad say you can't even detect a limp.
"It's hard on families," Dr. Grimm said of them seeing their infants and toddlers limited by body casts and braces. "We counsel the parents on how to care for the cast and how to position the child. We even have a special car seat program here at St. Luke's designed specifically for Spica casts."
"We can't express our thanks to Dr. Grimm or St. Luke's enough," Whitney said. "He is a great surgeon, a compassionate doctor and very pleasant to work with. He made things so much easier for us to deal with."