*
Hip Pain Eliminated Thanks to Orthopedic Care
June 18, 2021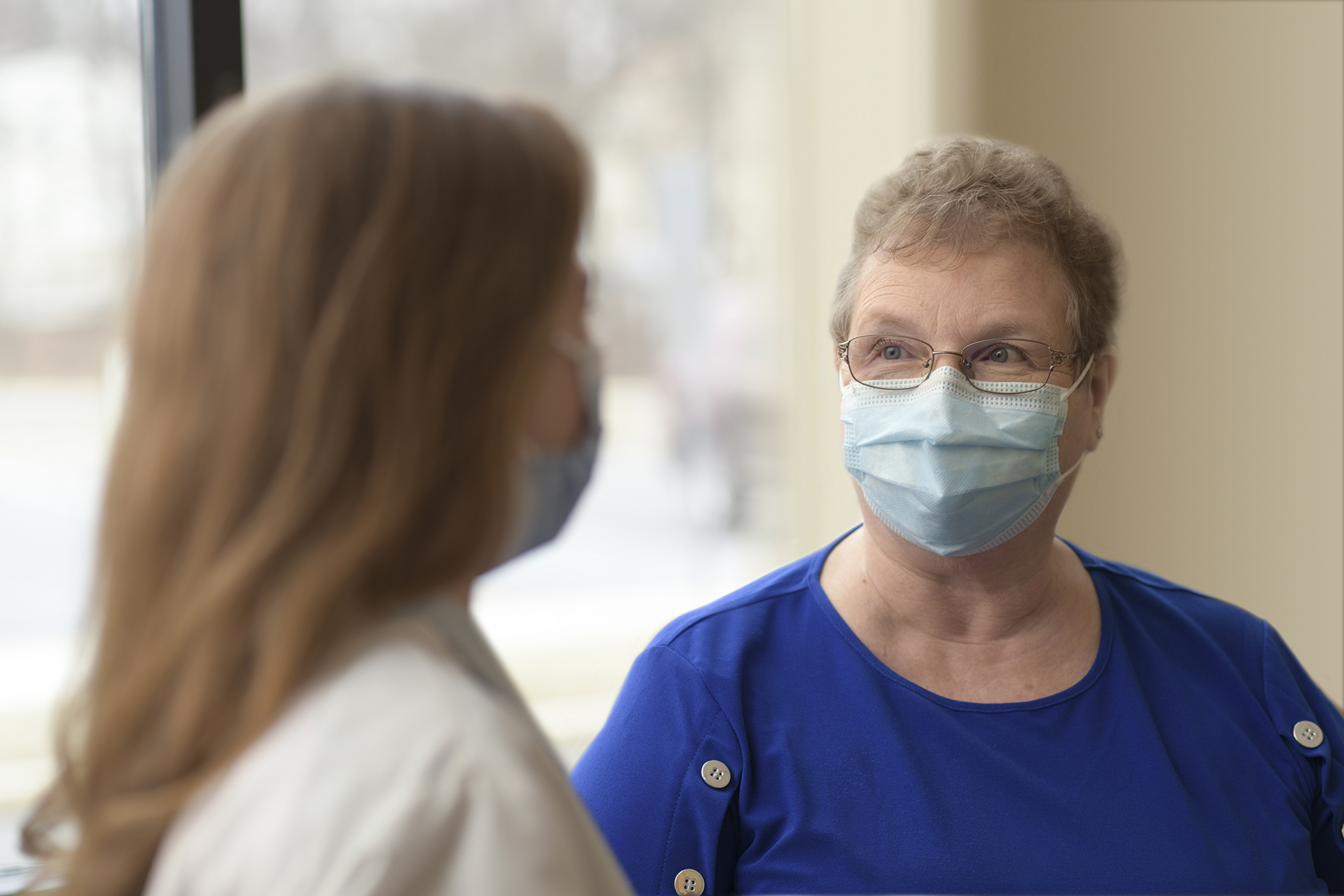 Working hours on her feet all day was becoming harder and harder for Doreen LaRizzio. She knew that with age came a certain amount of soreness and stiffness, but she was rating the pain level in her hip a 10+, far too much to bear on a daily basis. Fortunately, she found the solution that changed her life right where she worked, at St. Luke's University Health Network. "My only regret is that I put off having surgery for so long," laments Doreen. "I feel like a new person - healthier and happier than I have felt in years."
Doreen, 63, currently lives with her husband in Lehighton and has lived in Nesquehoning most of her life. She has been a proud St. Luke's employee for 32 years, working her way up from housekeeper to housekeeping supervisor and leading a team of 26 employees who make sure St. Luke's Lehighton Campus is clean, disinfected and safe.

Over the past two years, Doreen's hip pain became unbearable. Working in health care, Doreen knew how important it was to find the right physician, someone who would become a true partner to figure out the problem and solve it. After a recommendation from one of her co-workers, she scheduled an appointment with St. Luke's Orthopedic Care, a practice who Doreen now refers to as her "life saver."

Right from the start, everyone in the practice made Doreen feel comfortable and never rushed, as she provided her health history and descriptions of her pain. Her health records, including previous X-ray and MRI results were reviewed by the providers to get a comprehensive look at her condition, and a treatment plan devised to fix it. Because Doreen suffered from rheumatoid arthritis, she learned that the steroid injections she had gotten only gave her short-term pain relief. She desperately needed a long-term fix.

A hip replacement was recommended to provide Doreen sufficient long-term relief from her rapidly progressing pain. Doreen agreed to surgery after some hesitation. She felt confident and informed with the explanation of the deterioration of her hip she received and how surgery could fix it.

Doreen's hip replacement surgery went smoothly. After three days in the hospital, Doreen was visited by a team of physical and occupational therapists and nurses to begin her rehab at home. She then transitioned to the care of St. Luke's Orthopedic Care and Physical Therapy's offices at the St. Luke's Health Center - Lehighton, near her home. While there were times she felt like giving up, her therapists never let her, and she continued to work hard. That dedication and commitment, from both Doreen and her team, is what led to her full recovery.

Doreen's post-surgery rehab involved St. Luke's specialist Emily Keeler, DO, of St. Luke's Rheumatology Associates for her rheumatoid arthritis. Meghan Astorino, PA-C of St. Luke's Lehighton Family Practice manages her high blood pressure. "Many of my doctors and services are close to my home, which is such a blessing since getting around was tough at the beginning," Doreen says.

Doreen was also impressed that her team of physicians communicated and worked together on her behalf before, during and after surgery.

"Throughout this whole process, St. Luke's has made me proud. I'm proud to work for a hospital that takes great care of not only their patients, but their employees, visitors and the entire community -- making everyone feel like family," boasts Doreen. "I always tell people that if you want good care, go to St. Luke's and that is not because I work there, it is because they make a difference in patients' lives."

Doreen was so thankful for her extraordinary care that, when she visited St. Luke's Orthopedic Care for her post-op check-up, she brought some fresh-baked cookies for the staff. "Baking was something I couldn't do because of my pain," she says. "So, it was the best way I could think of to thank them for giving me my life back."