News
Grit, Determination and St. Luke's Orthopedic Care Get Moravian Football Player Back on the Field
March 11, 2019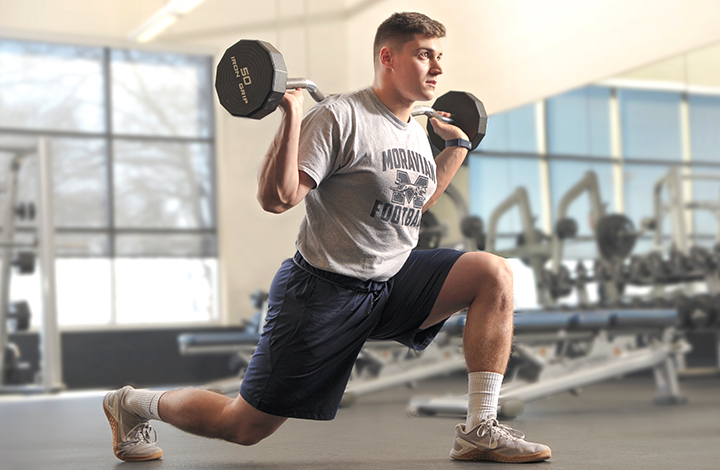 When Sal Pagano lined up on the football field for Moravian College's 2018 football season opener at Rocco Calvo Field against King's College, a huge cheer went up from the crowd.
Sal, a fullback, was named team captain despite being a junior. The cheers, however, were for his incredible comeback with the help of St. Luke's extraordinary orthopedic care.
He had had not just one, but two ACL reconstruction surgeries. He tore his left ACL during his freshman year in a game against Dickinson University, and after successful surgery and a return to the field for his sophomore year, tore the same ligament during practice.
That happens in approximately 10 percent of all patients, and unfortunately, Sal happened to be in that 10 percent, but he also happens to be in the one percent of most determined people.
"He's a wonderful person and a leader," said orthopedic surgeon Gregory Carolan, MD of St. Luke's Orthopedic Care who performed both surgeries. He used a piece of Sal's hamstring for the first reconstruction, and then cadaver tissue for the second.
"All the trainers, the coaches, everyone was devastated the first time he tore his ACL, and even more devastated the second time," Dr. Carolan said. "To come back again, he had to go through the pain of a second surgery and rehabilitation. Most people would have ended their football career right then, but Sal was determined to represent Moravian College and help them achieve their best success."
After the first reconstruction using a piece of Sal's hamstring, the Emmaus High School graduate worked day and night to get back on the field for the 2017 season.
But while running a pass route during practice a few weeks into the season, the same knee gave out and the new ligament tore.
Rehabilitating a knee after ACL surgery is a long, arduous and sometimes painful process. It's even harder the second time around because the patient knows the pain and the hard work necessary.
This time, however, Sal went about the approach a bit differently and returned to play for his junior season.
"The first time, I pushed it with rehab," said Sal, a Health Sciences major who is exploring the possibility of a career in physical therapy. "I was rehabbing five, maybe six days a week and I was really trying to accelerate the process to get back as fast as I could. I was cleared with five months for a return to activity."
The second time around, Dr. Carolan used cadaver tissue to replace the ACL, and while therapy was basically the same, Sal slowed down the process.
"This time, I lowered my physical therapy sessions to three times a week in order to give my body the necessary rest it needed," said Sal, who is a self-professed gym rat.
Working with Greg Colvin, DPT of Physical Therapy at St. Luke's on Schoenersville Road in Bethlehem, just like the first time, the rehab protocol began with simple quad sets, leg raises, mini squats, and eventually added in ankle weights to a leg press.
Both times the sessions evolved to incorporate the use of Alter-G, an anti-gravity treadmill that allows patients to walk or run while reducing bodyweight up to 80, which reduces the impact force on an injury. This time, he also benefited from Blood Flow Restriction, a therapy available regionally only through Physical Therapy at St. Luke's in their Bethlehem and Macungie offices.
Sal not only returned to the field for his junior season and was named captain, but finished the entire season without any complications, and is looking forward to his final year as a Greyhound football player.
"I'd just like to give a shout out to Dr. Carolan and Dr. Colvin," he added. "Both times they were with me every step of the way. Dr. Colvin has done everything is his power to get me healthy and on the field again, and he still checks in with me periodically to find out how I'm doing. It's a testament to his work-ethic that I succeeded, and it's why I'm looking down the career pathway of physical therapy myself."
"He's a spectacular young man and did an unbelievable job recovering from two ACL surgeries," Dr. Carolan said. "Lots of kids in his situation do decide not to continue with a career in football. Sal was determined to not let it hold him back."