Blog
St. Luke's Neurology Division Has Strong Presence at American Academy of Neurology Annual Meeting
May 03, 2022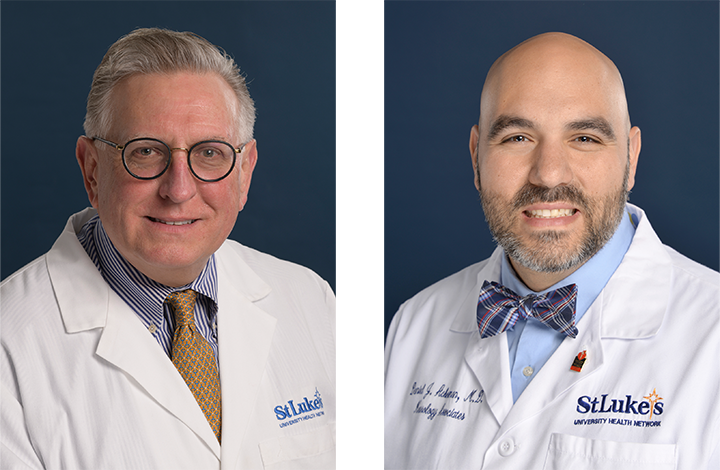 Dr. Jonathan Hosey and Dr. Daniel Ackerman
St. Luke's had a significant presence at the American Academy of Neurology (AAN) Annual Meeting "The Great Neuro Reunion" in Seattle April 2-7, 2022, including SLUHN Chairman, Neurobehavioral, Dr. Jonathan Hosey, and St. Luke's Director of Stroke and Vascular Neurology, Dr. Daniel Ackerman.
Dr. Hosey was one of four nationally recognized leaders in Neurology who collectively presented "Leading Through Adversity." Dr. Hosey and his colleagues participated in an interactive learning experience, sharing insights about how to approach challenging times and leverage personal strengths to navigate uncertainty.
Dr. Ackerman was involved in several presentations including "Perspectives in Neurology," an interactive course that discussed recent and upcoming changes in a Neurology and clinical implications, "Thinking about Practice Models in my Future Career," and "Finding Community and Balance Through Virtual Gaming."
Plus, several St. Luke's neurology residents presented scientific abstracts, including Drs. Ma Su Su Aung, Bryan Canlas, Shreeja Kadakia and Adriana Mendez-Suarez, who presented at the Annual Meeting in person, and Drs. Azima Shaji and Cory Hackmyer, who presented virtually.
AAN also awarded St. Luke's neurologist Dr. Brian James Hanrahan with the 2022 A.B. Baker Teacher Recognition Award to acknowledge his significant contributions to neurology education.