Mary Molinari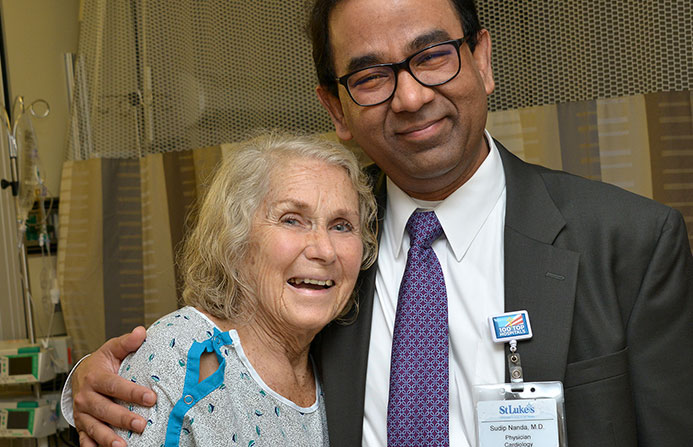 Mary Molinari's slow heart rate needed to be addressed; it often resulted in her feeling lightheaded or even passing out. But Mary's medical history made the installation of a traditional pacemaker difficult. Years ago, Mary underwent a bilateral mastectomy as part of her treatment for breast cancer. As a result, she had developed thick scar tissue that made the implantation of a pacemaker difficult.
But once St. Luke's University Health Network was selected by Medtronics as the first hospital in the Lehigh Valley to be able to utilize a revolutionary new, smaller pacemaker, the Medtronic Micra Transcatheter Pacing System – also known as the "world's smallest pacemaker" – her treatment options changed.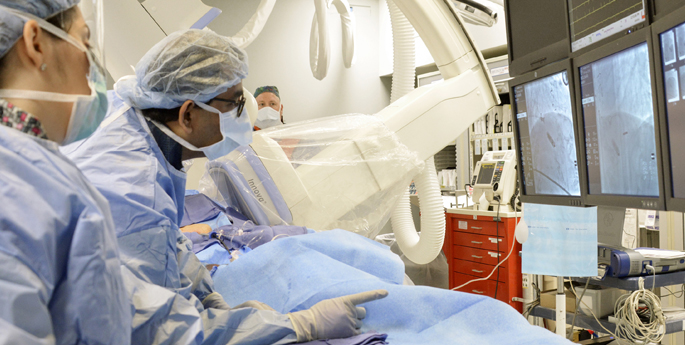 Dr. Douglas Degler, MD, Mrs. Molinari's primary care physician, referred her to St. Luke's cardiologist Dr. Jeffrey Bair, MD, both of whom practice in Monroe County. After reviewing the other factors affecting Mary's health, Dr. Bair referred her to St. Luke's Cardiac Electrophysiologist Dr. Sudip Nanda, MD, to consider a wider range of options.
Dr. Nanda recommended the pacemaker to address Mary's irregular heart rate. The Micra device provides the unique capacity to pace her heart, and not interfere with veins of either arm, which could cause serious complications in post–mastectomy patients.
"The cardiac electrophysiologists at St. Luke's University Health Network are dedicated to delivering the most state-of-the-art treatments available for heart rhythm disturbances," said Cardiac Electrophysiologist Dr. Darren Traub, DO, Medical Director of the St. Luke's Heart Rhythm Center. "As soon as this technology became FDA approved we worked with the hospital administration to make the Micra available to select patients – like Mary – who qualify for the device. We are proud to offer the most advanced cardiac devices and ablation therapy right here in the Lehigh Valley."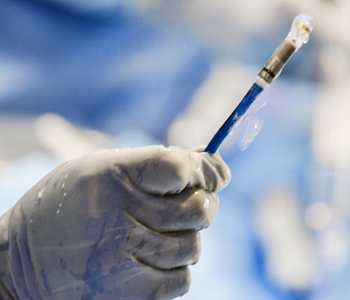 Mary, of Mount Pocono, Monroe County, in August 2016 became the first patient in northeastern Pennsylvania to benefit from this new technology.
"This revolutionary technology is the first FDA-approved leadless pacemaker," Dr. Traub said. "Comparable in size to a large vitamin, the Micra can be placed minimally invasively through a catheter and can pace the heart for up to 12 years."
All of St. Luke's electrophysiologists worked together to bring Micra TPS to the Lehigh Valley. Cardiac Eelectrophysiologist Dr. Steven M. Stevens, MD, stresses that this technology plays an important role in advancing modern pacing systems.
"Micra TPS has no leads, hence we avoid lead-related complications," he says. "There are no restrictions on the patient as far as arm movement is considered and they can go back to full activity much sooner. In the select group of patients who qualify for this device, it is aesthetically compelling as there is no visible scar or device footprint on the chest wall."
To implant the Micra pacemaker, Dr. Nanda made a small incision in Mary's groin and then threaded the pacemaker through her femoral vein and into her heart. The Micra TPS is attached to the heart with small tines and delivers electrical impulses that pace the heart through an electrode at the end of the device. It responds to the patients' activity levels by automatically adjusting therapy.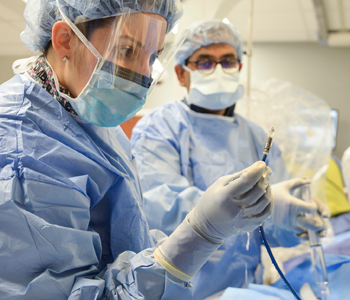 Mary, who returned home the day after her surgery, felt honored and privileged to be the first patient to receive the Micra pacemaker.
"It affords me a better quality of life without compromising my other health issues. Dr. Nanda and his staff were amazing. The treatment I received was first rate. I look forward to many more years of living my life to the fullest."
Another benefit of the Micra TPS is patients may receive full-body magnetic resonance imaging (MRI) scans, which is not possible for individuals with many traditional pacemakers. Should the Micra ever need to be removed, the Micra design incorporates a retrieval feature, but it may also be left in the body. For patients who need more than one device, the miniaturized Micra TPS has a unique feature that enables it to be permanently turned off. As a result, it can remain in the body and a new device can be implanted without risk of electrical interaction.
Photo Credit: Courtesy St. Luke's University Health Network