Auxiliary

Advancing the Interests of St. Luke's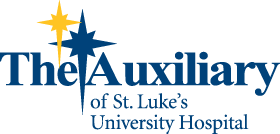 Our Mission
The mission of The Auxiliary shall be to advance the interests of St. Luke's Hospitals, the St. Luke's School of Nursing and the Medical School of Temple University/St. Luke's University Health Network. The Auxiliary shall render service, give financial aid and promote public awareness of the health and educational initiatives of St. Luke's Hospitals for its patients and its hospital community.
"Tell me and I forget. Teach me and I remember. Involve me and I learn."
- Benjamin Franklin
Providing Assistance and Support to St. Luke's
Women and men who join the Auxiliary (established in 1874) of St. Luke's Hospital make lasting friendships while providing essential assistance, support and financial aid for many of the hospital's needs. If you are interested in meeting and helping people, you can contribute both physically and/or financially in many ways. You may be as active as your time and commitment permits. Members are invited to attend luncheons, bus trips and other social and educational events.
Benefits
The benefits of Auxiliary membership include:
Meet new people, make lasting friendships and learn new skills
Support St. Luke's Hospitals and its mission
Invitations to Auxiliary member and social events
Receive Auxiliary member directory
Receive newsletters with Auxiliary news and health information, as well as other hospital publications
Member card with discount for Hospital Gift Shops
Dues
The membership year runs July 1 to June 30. All dues are tax deductible. The membership directory will be printed in December.
Annual Membership - $10
Star Membership - $25
Lifetime Membership - $250
Opportunities
Auxiliary committees provide an opportunity to get involved:
Charity Ball
Classic on the Green Golf Tournament
Gift Shops
Health education and legislation

Membership and social events
Pediatric holiday parties
Accounting/finance
Marketing/PR/social media
Opportunities for Hospital volunteer participation (both patient- and non-patient contact) including:
Gift Shops
Other in-hospital volunteering: the director of volunteer services can match you with the position that best meets your needs
Call us at 1-866-STLUKES (785-8537) or send an e-mail for an application and additional information. Or, please download the brochure and application. Please complete and mail the application and your check to:
The Auxiliary of St. Luke's University Hospital
Attention: Membership Chair
801 Ostrum Street
Bethlehem, PA 18015
Auxiliary Board
Executive Committee
| | |
| --- | --- |
| Amy Thompson | President |
| Fran Fisher | Vice President |
| Ann Marie Brogle | Immediate Past President |
| Barbara Burger | Recording Secretary |
| Paulette Sapoch | Treasurer |
| Winnie Melinsky | Asst. Treasurer |
| Melissa Capobianco | Corresponding Secretary |
| Kris Warner | Board of Trustees Representative |
| Elizabeth Malacoff | Parliamentarian |
| Tina Connar | Member-At-Large |
| Virginia Oskin | Member-At-Large |
Committees
"Classic on the Green" Golf Tournament

Wish List

Fashion Show


Tina Connar
Pat Schoenen
Faith Ann Ryan

Special Sales

Barbara Burger
Ann Marie Brogle
Amy Thompson

Health Education and Legislation

Membership

Pediatrics

Communications

St. Luke's Charity Ball

Archives

Legislation


Community Outreach


School of Nursing/Medical School


Member at Large

Kelly Dunn
Tania Marsh
Emma Reynolds
We look forward to meeting you! Thank you for joining us!