WalkWorks

Walkworks is a collaboration of the Pennsylvania Department of Health, the University of Pittsburgh Graduate School of Public Health and St. Luke's University Health Network to increase physical activity throughout Pennsylvania. By establishing community-based walking routes and forming sustainable walking groups for individuals of all ages and abilities, WalkWorks seeks to enhance and improve the health of residents.

As a WalkWorks partner, St. Luke's University Health Network's Community Health Department strives to achieve its mission of partnering with the community to increase health awareness, improve the health status of the community and encourage appropriate access to health services. As part of our Healthy Living Initiatives, St. Luke's promotes health through physical activity by partnering with WalkWorks and the Delaware and Lehigh National Heritage Corridor (D&L) to bring the community a family fun initiative, Get Your Tail on the Trail!
By linking St. Luke's healthy lifestyle expertise with the recreational and heritage leadership of D&L, members of our community can participate in scheduled challenges and events on their way to achieving their personal goals of health, fitness and fun. Sign up for FREE at www.tailonthetrail.org.
Why WalkWorks?
When you join WalkWorks, you become part of a group of people of all ages, shapes, sizes, and fitness levels who want to achieve better health. The WalkWorks initiative:
Identifies and promotes safe walking routes
Offers social support through guided, community-based walking groups
Helps schools develop walk-to-school programs
Addresses local policies to increase safe walking routes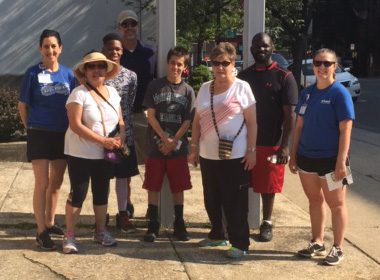 Walking is one of the most popular options for physical activity in America, and for good reason: it helps you lose or maintain your weight, which in turn can help to avoid or reduce chronic diseases such as diabetes, heart disease, and some cancers. And it's free and requires no special equipment or athletic skill.
By Becoming a part of WalkWorks, you can improve your health, socialize with friends and family, and enjoy the scenery in your community. Finding a safe and accessible place to walk in your area has never been easier. WalkWorks has identified routes in Northampton County, including Bangor and Easton, and created maps that highlight historic landmarks or places of interest along the way. Click here to view the maps. Whether you are walking the WalkWorks routes, or getting out on the trails for some fresh air, every mile counts!
Find out more about WalkWorks at www.pawalkworks.com or call St. Luke's InfoLink at 1-866-STLUKES (785-8537) or email at InfoLink@sluhn.org.