Dental Health Initiative

Providing Access to Oral Health Care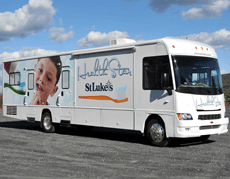 Contact Us
For more information about the
Dental Health Initiative and to
schedule an appointment for your
child, call 484-526-2100.
The Dental Health Initiative is a program of the Bethlehem Partnership for a Healthy Community, a collaborative effort dedicated to improving the quality of life and health of residents in Bethlehem, Pennsylvania and surrounding areas.
The Dental Health Initiative was launched in 1997 after a health assessment survey revealed the need to improve dental health in the Bethlehem area. Also, school nurses identified that children were not accessing dental care after screening referrals. As a result, the Dental Health Initiative was formed.
The program includes two mobile dental vans, HealthStar I and HealthStar II, which are Winnebagos outfitted with dental chairs, X-ray and sterilization facilities and a patient waiting area. The vans offer comprehensive dental care for children ages three to 18 years and are staffed by dentists, dental hygienists and dental assistants.
The Dental Health Initiative also uses portable dental equipment to provide preventative and restorative services to children.
St. Luke's is committed to the dental health of residents throughout our region. The Dental Health Initiative also provides dental care for children and adults at its dental health centers in Bethlehem and Easton. Also, we offer a Dental Residency Program to train medical graduates who are specializing in dental and oral health.
The Mission
The mission of the Dental Health Initiative is to provide at-risk populations with access to individualized, compassionate, cost-effective dental care. The Dental Health Initiative currently has three main components:
Community Awareness and Education is provided through elementary schools, preschools, daycare facilities and community agencies in an effort to heighten awareness of the value of prevention through proper dental hygiene and regular care. Toothpaste, brushes and floss are collected through donation campaigns and distributed to needy families in the community.
Oral Disease Prevention is provided through dental "Preventive Days" and the mobile dental clinics.
Oral Health Restoration is provided through volunteer dentists, dental "Marathon Days" and the mobile dental clinics.
Our Patients
Children are welcomed into the mobile dental van programs for their dental care if they do not have the financial resources to pay for private dental services or are not able to find an accepting Medicaid provider.
Why we need this program
According to the U.S Census – American Community Survey of Bethlehem from 2005-2009, 28.7 percent of the 28,168 households in Bethlehem have annual incomes under $25,000. Eleven percent of families in Bethlehem live in poverty. As many as 50 percent of the Bethlehem Area School District are Title 1 schools, serving a large percentage of students from low-income families.
Similarly, 34.2 percent of the 39,941 households in Allentown have annual incomes under $25,000, according to the Census American Community Survey of Allentown from 2005-2009. Twenty percent of families in Allentown live in poverty and 100 percent of schools in the Allentown School District are Title 1 schools, serving a large percentage of students from low-income families.
With many children and their families qualifying for medical assistance, very few dentists in the Lehigh Valley accept Medicaid. Most are not able to accept new patients.
Many families with working parents are underserved because they do not qualify for assistance and cannot afford dental care.
Keeping our community healthy, by providing access to dental care, benefits all its citizens.
Importance of oral health care
Oral health is integral to general health. In the long run, good dental care reduces emergency room visits and other medical costs.
Problems in the mouth can signal trouble in other parts of the body, such as immunocompromised diseases and osteoporosis.
Poor oral health has been associated with life-threatening diseases such as diabetes and heart disease, which are responsible for the deaths of millions of Americans each year.
Poor oral health and dental disease often continue from childhood into adulthood because tooth decay and periodontal disease are progressive and cumulative throughout life.
Tooth decay is the single, most common childhood disease – five times as common as asthma and seven times as common as hay fever in five to 17-year-olds.
Among adults age 65 to 74, 26 percent have lost all of their natural teeth.
Approximately one-third of persons across all age groups have untreated tooth decay.
Pregnant women with untreated periodontal disease can be seven times more likely to have pre-term, low-birth weight babies.
Source: Report on Oral Health, Office of the Surgeon General, U.S. Department of Health and Human Services
Our Doctors
Director
General Dentistry
Thomas Madara, DMD
Gary Potok, DMD
Laura Yarger, DDS
Endodontics
Oral Surgery
Wayne Saunders, DMD
Daniel Lader, DDS
Dominic Rachiele, DMD
Brett Geller, DMD
Michael Goulston, DMD
Pediatric Dentistry
Orthodontics
Brian Loftus, DMD
William Cherry, DMD