Community Health Needs Assessment (CHNA)
St. Luke's University Health Network is pleased to provide this resource to help you understand the factors that are driving health in our communities and to prioritize those issues that require our most urgent attention.
Most importantly, we hope you will use this information to inform investment strategies and community actions that can make a real difference in the health of our patients, clients, constituents and neighbors in the communities we all serve. For more than 145 years, St. Luke's has been dedicated to providing high quality, affordable health care services and to improving the health of all the citizens of our region.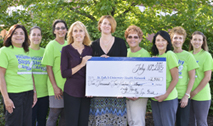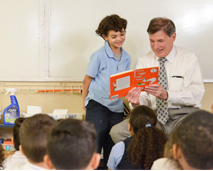 At the conclusion of our 2016 CHNA here are the top five health needs St. Luke's is addressing in our communities:

Improving Access to Care and Reducing Health Disparities
We need more primary care physicians and dentists in our area.
Approximately 1 out of 4 survey respondents could not afford to pay for eyeglasses.
We serve a diverse population, with Spanish and Arabic translator/interpreter needs.
53% of our patients have Medical Assistance or Medicare.

Promoting Healthy Lifestyles and Preventing Chronic Disease
Overweight and Obesity rates are very high – residents are not living active lifestyles and eating enough fruits and vegetables.
More than half of those who responded to the community health survey reported having at least one chronic disease.

Improving Mental/Behavioral Health
We need more mental health providers in our communities.
36% of those who responded to the community health survey reported one or more poor mental health days in the past month.
We have a high rate of binge drinking in our area.

Improving Child Health
In comparison to the U.S., we have higher rates of low birth weight infants.
40% of children under 18 in our region are living at or below 200% of the Federal Poverty Level.
In our region, almost half of the children in school qualify for the free/reduced cost school lunch program.
2015 PSSA scores for third graders reading below grade level in our region ranged from 11% to 81%.

Improving Elder Health
83% of those over 65 years of age who responded to the community health survey had at least one chronic disease.
40% of community health survey respondents who were 65 or older reported having an annual income of less than $25,000.
Our region has low levels of social associations - this has a poor affect on health status.