News
St. Luke's Launches New Comprehensive Spine Program
August 01, 2018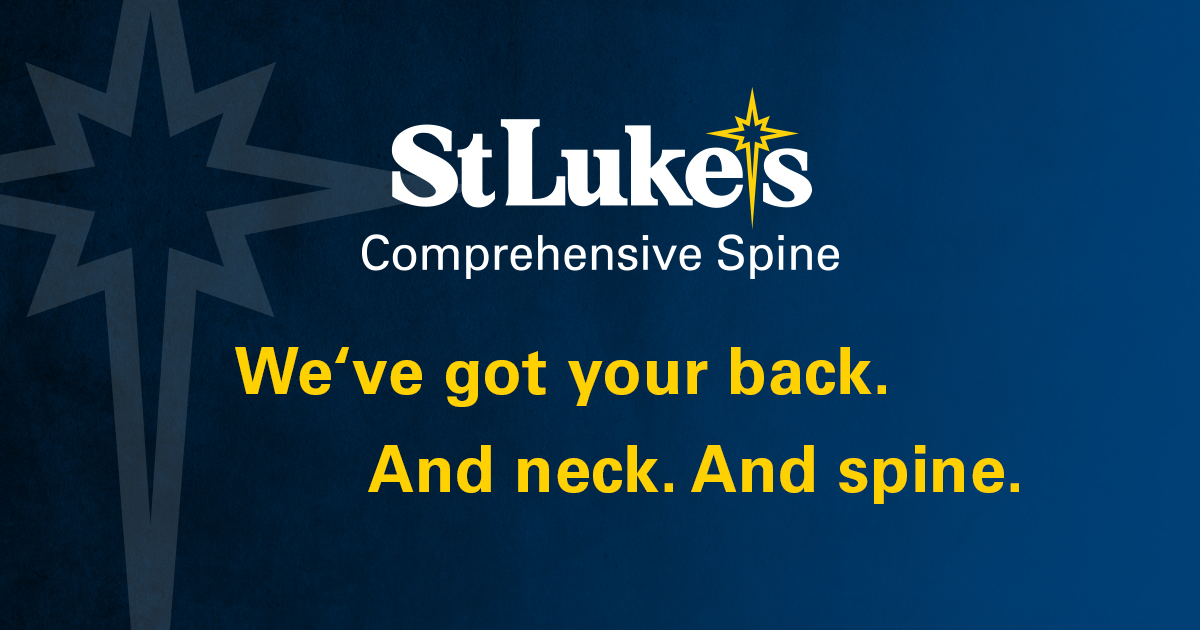 Groundbreaking approach to back and neck pain offers better care, lower costs.
BETHLEHEM, Pa. (August 1, 2018) — St. Luke's University Health Network today announced the launch of Comprehensive Spine, an innovative back and neck pain treatment program designed to avoid costly ER visits, X-rays and potentially addictive opioid prescriptions as well as unnecessary surgeries.
Comprehensive Spine – a physical-therapy-first approach to acute back and neck pain – is the only program of its kind in the greater Lehigh Valley. St. Luke's is among a handful of health care systems nationwide able to offer such a program thanks to its extensive network of physical therapy locations and expert physical therapists. With 50 physical therapy locations, Comprehensive Spine can offer back and neck pain patients treatment within 24 to 48 hours.
"Spinal surgery should be the last stop for a patient, used only when needed," said Gbolabo Sokunbi, MD, orthopedic spine surgeon at St. Luke's. "Comprehensive Spine will improve patient access, providing a streamlined program with specialists at different entry points to ensure that patients receive the care that is needed."
For the majority of patients suffering from back or neck pain or other spine-related issues, physical therapy leads to reduced pain and better movement within four to six weeks — and sometimes after only one or two appointments.
St. Luke's Comprehensive Spine's new approach to healing back and neck pain offers a number of advantages for patients and providers, including:
Fewer X-rays, CT scans and surgeries
Less prescription medication, including opioids
A better patient experience and outcome
Less expense across the health care continuum
Why Comprehensive Spine?
At many health care systems, patients with back and neck pain are apt to see a surgeon before attempting physical therapy.
St. Luke's research, however, has shown that approximately 85 percent of patients with back and neck pain are best treated with physical therapy. Only 15 percent of cases should be directly referred to a surgeon or other advanced specialists.
"Our goal is simple: Provide the right treatment with the right specialist at the right time," said Jason M. Erickson, DO, an interventional pain physician at St. Luke's Spine and Pain Associates. "We want patients returning to function and meaningful activities, whether it's spending time with their families, getting back to their jobs or returning to the activities that are important to them. The Comprehensive Spine program will allow patients to get the care they need, quickly and efficiently."
Take the case of David Dapkewicz: One morning, Dapkewicz awoke with radiating pain in his lower back. The process soon repeated itself – back pain in the morning that would linger throughout the day.
Instead of undergoing an operation and exposing himself to the considerable costs and risks associated with surgery, Dapkewicz began working with a St. Luke's physical therapist on a regimen of exercises and stretches. What started as two sessions a week eased into a once-a-week routine and finally once every other week as his condition continued to improve. Before long, Dapkewicz's back pain was gone and he was active one again.
"I had never had back pain of any kind on a regular basis until I had my sciatic nerve problems," Dapkewicz said. "The St. Luke's team helped me through the process and provided me with non-surgical solutions — led by physical therapy — to relieve my back pain. It worked."
How Does It Works?
Patients call 1-866-STLUKES to speak to a trained Comprehensive Spine nurse about their back or neck pain. Following an over-the-phone assessment, patients will then be directed to the proper course of treatment. When appropriate, that will be an initial evaluation by an advanced specialist. In the majority of cases, however, patients will be directed to a physical therapist with the skill and training to treat conditions of the spine.
"When patients with back or neck pain see our highly trained physical therapists first, they have better outcomes and experiences – and costs are lower too!" said Giovanni Stracco, DPT, spine program director at Physical Therapy at St. Luke's.
Comprehensive Spine services are being offered now. Patients suffering from back, neck or spine pain can learn more by calling 1-866-STLUKES or visiting www.sluhn.org/spine.
Media Contact:
Brenda Hageter, Media Relations, (484)-526-3051, Brenda.hageter@sluhn.org
About St. Luke's
Founded in 1872, St. Luke's University Health Network (SLUHN) is a fully integrated, regional, non-profit network of 14,000 employees providing services at 10 hospitals and over 300 outpatient sites. With annual net revenue of $1.9 billion, the Network's service area includes 10 counties: Lehigh, Northampton, Berks, Bucks, Carbon, Montgomery, Monroe and Schuylkill counties in Pennsylvania and Warren and Hunterdon counties in New Jersey. Dedicated to advancing medical education, St. Luke's is the preeminent teaching hospital in central-eastern Pennsylvania. In partnership with Temple University, St. Luke's created the region's first and only regional medical school campus. It also operates the nation's longest continuously operating School of Nursing, established in 1884, and 28 fully accredited graduate medical educational programs with 226 residents and fellows. St. Luke's is the only health care system in central-eastern Pennsylvania to earn Medicare's five-star rating (the highest) for quality, efficiency and patient satisfaction. St. Luke's has earned the 100 Top Major Teaching Hospital designation from IBM Watson Health (formerly Truven Health Analytics) repeatedly – six times total and four years in a row including 2018. It has also been cited by IBM Watson Health as a 50 Top Cardiovascular Program. Utilizing the EPIC electronic medical record (EMR) system for both inpatient and outpatient services, the Network is a multi-year recipient of the Most Wired award recognizing the breadth of the SLUHN's information technology applications such as telehealth, online scheduling and online pricing information. St. Luke's is also recognized as one of the state's lowest cost providers.