News
High School Athlete Becomes College Athlete with Help from St. Luke's
July 20, 2018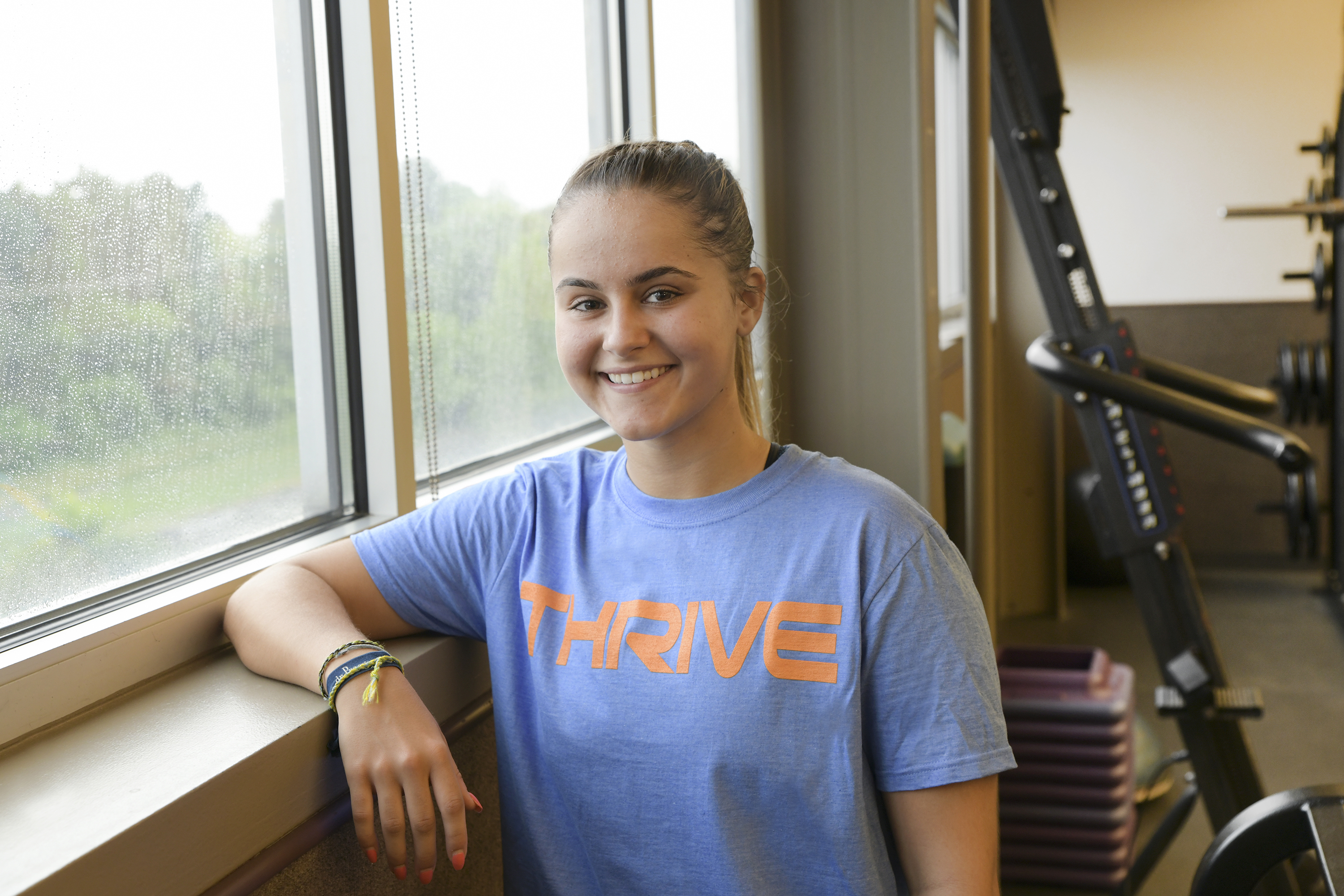 During her junior year of high school, Erika Antunes started taking college recruiting for soccer seriously.
"I wanted to be able to perform better than the players around me," said Erika, who will graduate from Notre Dame–Green Pond in June, and then go on to Elizabethtown College where she will also play soccer.
In order to improve her performance, Erika joined St. Luke's Fitness and Sports Performance: Commerce Way in Bethlehem and began training under the tutelage of Mike Conway, Director, St. Luke's Fitness & Sports Performance Center.
The training paid off. Erika was recently named a Colonial League Academic All-Star, which recognizes her drive and accomplishments both on the field and in the classroom. Training with Conway has improved her both physically and mentally.
"I've definitely experienced different types of exercise that I never imagined myself doing," Erika said. "At first, I thought I didn't have to build up my upper body as a soccer play, but Mike has worked with me to get me stronger so that I don't get pushed off the ball. I have more speed. My strength and endurance have improved."
"Erika is an outstanding scholar-athlete," Conway said. "She takes a lot of pride in everything she does. She not only pays soccer at a high level for her high school, but at a high club level, traveling outside the region to play top competition."
Erika plays club ball for FC Europa out of Conshohocken and can't wait to suit up for the Blue Jays of Elizabethtown in August.
Conway works with Erika both individually and as part of MetCon (metabolic conditioning) classes, and always has a plan.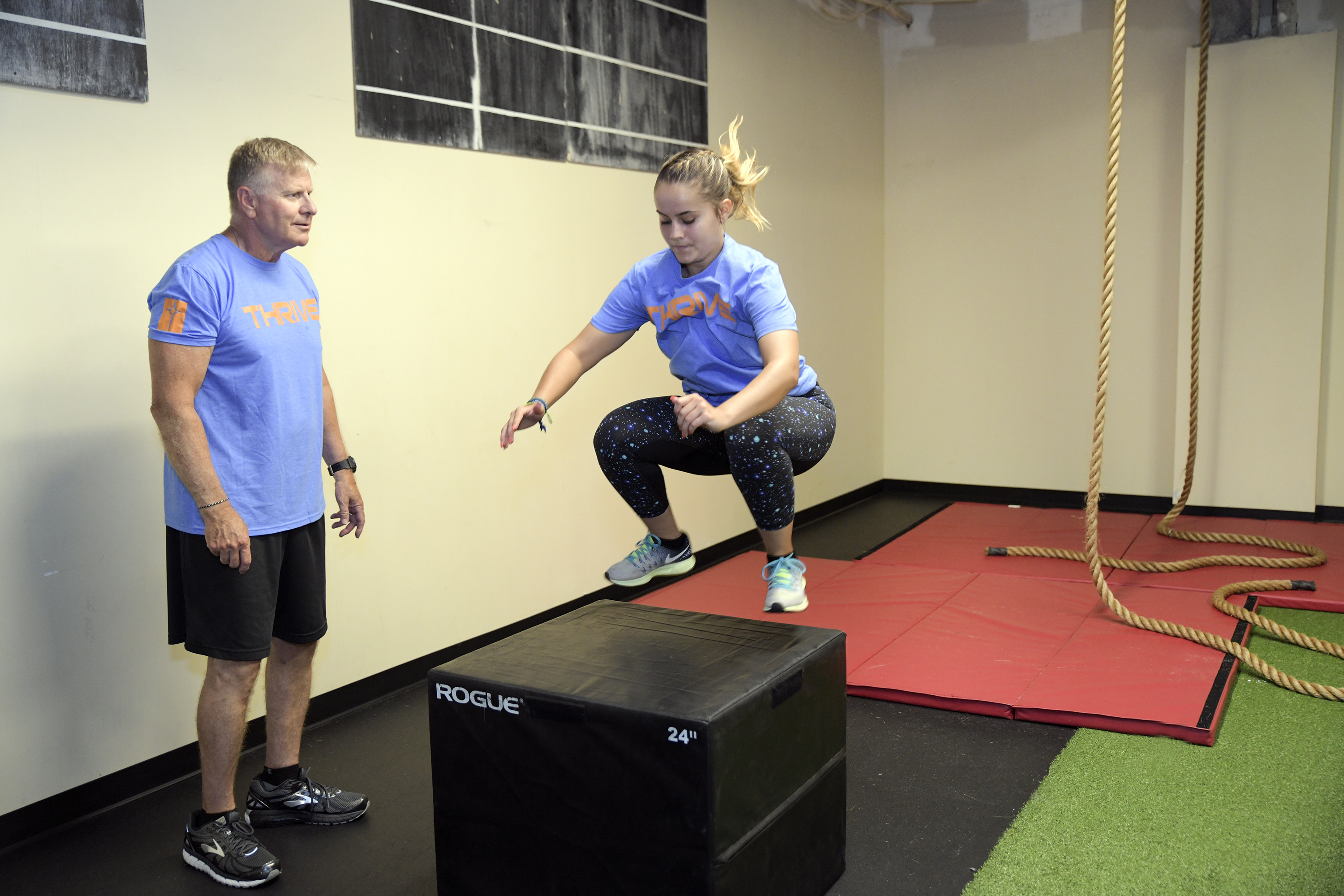 Photo Caption: Mike Conway and Erika Antunes during training session
Before they begin, he assesses how she's feeling, if she trained for soccer that day or will train afterward so he understands her fatigue level. He'll even ask about how many competitions she may have on the upcoming weekend to make sure there's enough recovery time built-in to her training.
"I love that," Erika sad. "And Mike makes everything I do different. It's not mindlessly running on a treadmill. You never know what you're going to get, but you always feel like you did something good."
Conway calls her daily sessions a collaborative effort, and finds it remarkable that she refuses to skip a planned workout day even if a soccer practice gets hastily added into her day.
And she enjoys the demanding MetCon group sessions, where athletes train all three metabolic systems – sprint, anaerobic and aerobic –in 45 minutes to reach an ultimate fitness level.
It's that kind of dedication and desire that makes Erika truly extraordinary athlete, and she's seeing that effort pay off.
"In March we had a big tournament," she said, "and I had a Thon event at school the day before, so I was tired, but I knew I had a game, and I told myself, 'I can do this!' I played all 90 minutes I won every single header, and I was able to get an assist on a goal. That's when I knew that all the work was paying off."
She's an extraordinary young athlete pushing her way to the next level.
Media Contact:
Sam Kennedy, Corporate Communications Director, 484-526-4134, samuel.kennedy@sluhn.org
About St. Luke's
Founded in 1872,

St. Luke's University Health Network

(SLUHN) is a fully integrated, regional, non-profit network of 14,000 employees providing services at 10 hospitals and over 300 outpatient sites. With annual net revenue of $1.9 billion, the Network's service area includes 10 counties: Lehigh, Northampton, Berks, Bucks, Carbon, Montgomery, Monroe and Schuylkill counties in Pennsylvania and Warren and Hunterdon counties in New Jersey. Dedicated to advancing medical education, St. Luke's is the preeminent teaching hospital in central-eastern Pennsylvania. In partnership with Temple University, St. Luke's created the region's first and only regional medical school campus. It also operates the nation's longest continuously operating School of Nursing, established in 1884, and 28 fully accredited graduate medical educational programs with 226 residents and fellows. St. Luke's is the only health care system in central-eastern Pennsylvania to earn Medicare's five-star rating (the highest) for quality, efficiency and patient satisfaction. St. Luke's has earned the 100 Top Major Teaching Hospital designation from IBM Watson Health (formerly Truven Health Analytics) repeatedly – six times total and four years in a row including 2018. It has also been cited by IBM Watson Health as a 50 Top Cardiovascular Program. Utilizing the EPIC electronic medical record (EMR) system for both inpatient and outpatient services, the Network is a multi-year recipient of the Most Wired award recognizing the breadth of the SLUHN's information technology applications such as telehealth, online scheduling and online pricing information. St. Luke's is also recognized as one of the state's lowest cost providers.