Blog
Inventory Control Manager Moonlights as Professional Wrestler
September 07, 2023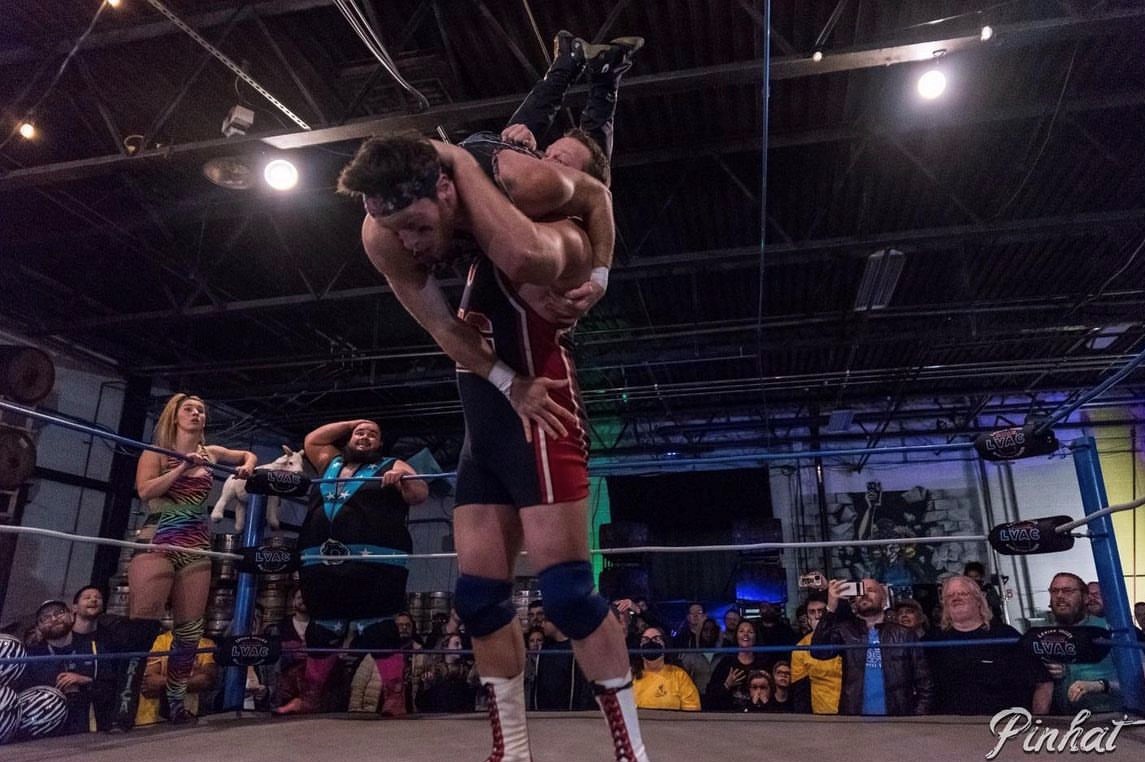 By day, he's Dan English, St. Luke's Manager of Inventory Control for the Anderson, Easton Warren and Monroe campuses, making sure all the different areas are stocked and ready to serve St. Luke's personnel and patients for the best experience possible.
But after work, the 39-year-old transforms into Dan Champion, a hulking 6-foot-5, 275-pound behemoth who recently won the Pennsylvania Premier Wrestling tag-team title with partner Havoc as Team B1G.
"We won in a no-rules match and we hit them with a chair," Dan said of the title-winning bout as Team B1G defeated Primal Fear in a Slatington Street Fight on June 17.
Big Dan has a big show coming up with SteelStacks Smackdown II in Bethlehem on Saturday, Sept. 16, featuring former WWE wrestlers The Godfather and D'Lo Brown. The show includes a fundraiser for new Bethany Ministries, which offers hope and support to local people who are experiencing poverty, hunger and homelessness.
"I try to do a lot of charity work by partnering with a local screen-printing company that promotes shows in the Lehigh Valley," Dan said. "During COVID we raised $750 for the St. Luke's COVID-19 Response Fund. I am excited to help New Bethany on Sept. 16. They are one of my favorite charities," he said.
While Dan English is known to keep things light and in order with his team on the St. Luke's campuses, Big Dan Champion is an impressive athlete with size plus the agility of smaller, lighter pro wrestlers that make him a force to be reckoned with.
"At St. Luke's, my department is part of the supply chain, so we stock up all kinds of supplies for the different areas," Dan said. "We do have fun and try to keep it light, talking about sports or whatever to keep it loose."
But in the ring, Big Dan is a veritable beast as he unleashes some of the favorite moves in his arsenal such as a TKO, where he uses a fireman's carry to lift and then drop an opponent on his head, or a flying drop kick, or the dreaded splash, where he leaps and comes down with his elbow onto his prostrate opponent.
Dan, who played high school soccer at Phillipsburg High School in New Jersey, loved watching pro wrestling on TV as a child. When he was in high school, he and several friends built a backyard ring and did their own wrestling shows. When he turned 18, he and some of his friends went to a now defunct wrestling school to learn the craft.
One of his friends and fellow Phillipsburg High soccer teammate, who goes by the ring name Orange Cassidy, is a pro wrestler on the All Elite Wrestling Circuit.
Dan keeps in shape by taking metabolic conditioning classes with St. Luke's at the West End and Commerce Way fitness centers.
Metabolic training combines higher intensity strength and metabolic intervals with cardiovascular training to produce maximum gains in muscle development, strength, and cardiovascular improvement. It is designed to provide the supreme improvements in body composition and fitness.
The class pace is primarily fast, but suitable to the fitness level for each participant – so are welcome and safety is a priority. Posture, proper form and technique are stressed and reinforced.
St. Luke's metabolic training classes are open to everyone regardless of their present level of fitness as workout is adaptable to your level of fitness.
Dan's pro wrestling career keeps him busy. Last year, he did 49 shows, with trips around the Northeast to Massachusetts and Pittsburgh.
"The long drives are the worst part, being in the car so long," Dan said, "but those are also some of the best times because you get to be with friends in the car."
His longest trip for a show was to Tampa, Fla. One of the hardest was in Pittsburgh on a Sunday night, having to make it back for work on a Monday morning.
"It really is a lot of fun," Dan said. "We get paid, it keeps me active, and it gives me a purpose to go to the gym. Plus, as part of LVAC wrestling, we get to do a lot of charity work."
Dan's got a big upcoming schedule with shows in Massachusetts and Cleveland before the hometown highlight at SteelStacks Smackdown II. Tickets can be purchased here: SteelStacks Smackdown II — Event — SteelStacks