News
St. Luke's: Now Hiring Warriors and Positive Role Models
June 06, 2022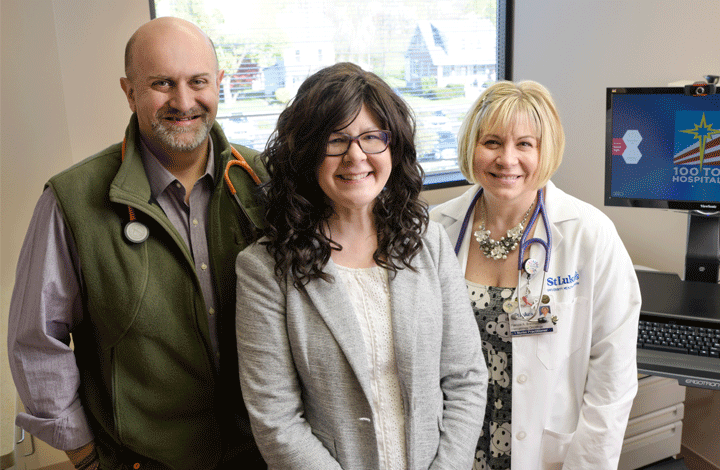 Lauren Kiefer, 42 and raised in Allentown is a warrior and a positive role model for handling adversity. While changing careers, she was looking for a supportive employer that upheld the values she believed in, but she never imagined what life would bring when, in 2021, she applied for a position as the human resources director at St. Luke's Upper Bucks Campus.
Her mother was actively fighting breast cancer and receiving care through St. Luke's Hospice when Lauren was called to interview for St. Luke's HR position. Lauren's interview was conducted from her childhood bedroom at her parent's home, while her mother rested downstairs. Despite her own circumstances, her mother's excitement and encouragement about the interview felt empowering and only a few weeks after her mother passed away, Lauren was offered the position. She was touched, claiming "I know it was because of my Mom!" She began a new chapter in her life with the confidence that she was exactly where she was meant to be.
That bubble was about to burst. On August 21, one week after being offered the job, she was diagnosed with breast cancer herself. She likes to joke that "St. Luke's offered me a job and diagnosed me with cancer in one week!" The worst part was telling her children that she had the same disease that their grandmother had died from recently. As if that were not enough, her husband contracted COVID two weeks before her double mastectomy.
All of this would crush the average person, but Lauren rose to the occasion. She didn't have much time to focus on the job offer since she was diagnosed a week later. She considered declining the position to focus on her health, but a mentor gave her sound advice. "Your health situation is temporary, but the job could last the rest of your career." This encouraged her, as her mother had, and she decided to give it her all.
It was a great decision, and she's never looked back. When asked how she maintained her stamina through these terrifying life events, she said "knowing that the entire St. Luke's team was supporting me along the way took away a lot of stress and worry and allowed me to focus on my health. Even the hospital president, Dennis Pfleiger, checked in on me and wanted to make sure I was doing OK." Throughout her treatment protocol, she continued to work. Her cancer care was overseen by St. Luke's surgical oncologist, Tricia Kelly, MD, medical oncologist Asim Ali, MD as well as nurse practitioner Tricia Brennan, CRNP. Lauren was also appreciative of the care she received from her breast reconstruction surgeon, Alyson Melin, DO, who was by her side during an unexpected trip to the ER at St. Luke's Allentown Campus. "She was amazing," said Lauren. "Everyone has been incredible."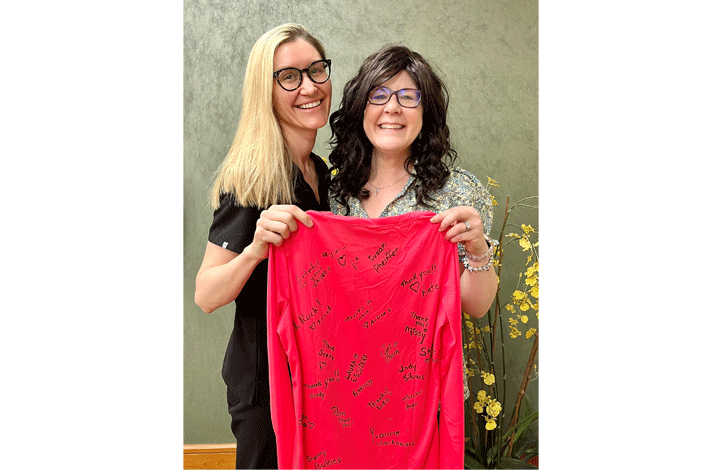 Lauren also had an army of strong, supportive friends and family standing behind her. She considers it a gift to know she's touched so many lives, and how many people were there for her. Her sister set up a meal train for the weeks she had her treatments and Lauren employed "the troops," as she called them, to help juggle her kids. Not one for pity, she kept her cancer mostly to herself, but prior to her double mastectomy she set up a Facebook group called "Thanks for the Mammories," to keep her close friends and family informed. They rallied for her. She believes it showed her that being vulnerable isn't a bad thing. "People need to open up more. The world is kinder and more generous than you think."
Lauren's ever-present humor is infectious. It's easy to connect the dots between her positive demeanor and her ability to conquer cancer with dignity. Lauren never missed a beat in her new career at St Luke's while managing the demanding treatment protocols. She shares some sound advice that she learned from what she's been through. "Ask yourself, 'what do I need to do today?' instead of focusing on the future. When faced with mortality, you learn to seize the day. I am very grateful for every day."
On March 17, 2022 Lauren rang the bell indicating her last chemo treatment at St. Luke's Quakertown Campus and was able to celebrate her triumph with her family and friends.