News
St. Luke's Expands Vascular Care at Allentown Campus with New Surgical Room
February 28, 2020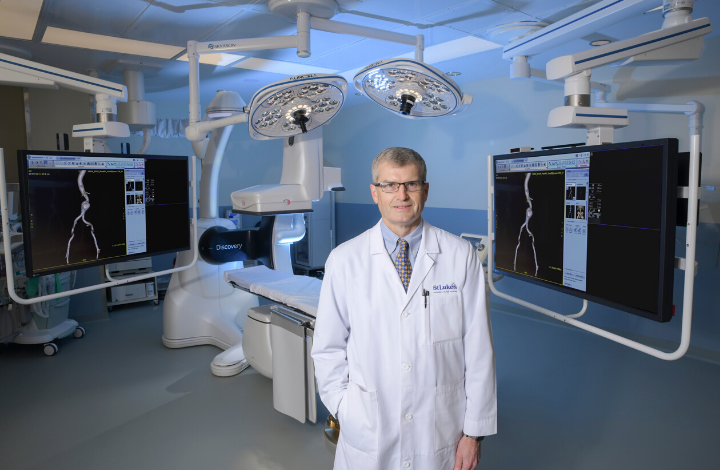 People with blocked or dilated arteries will now be able to receive potentially lifesaving care from vascular specialists treating them in the new hybrid operating room at St. Luke's Allentown Campus. This is Allentown's first facility where St. Luke's team of vascular surgeons and interventional radiologists will focus expressly on removing or clearing fatty blockages in arteries of the neck, kidneys and limbs and repairing severely dilated arteries in the abdomen and other parts of the body.
A hybrid operating room is a surgical theatre that is equipped with an advanced medical imaging system that enables minimally-invasive surgery. Patients benefit from having this technology available locally because complex procedures can be completed in a shorter amount of time using less invasive techniques tailored to the patient's needs since surgeons have the ability to combine advanced imaging technology and surgical techniques simultaneously.
The first patient treated in the new Allentown Campus hybrid OR had fatty blockages surgically cleared from her carotid arteries, which supply blood to the brain, possibly preventing a stroke. Vascular specialists in the hybrid OR have the option of treating patients with 'open' surgery or non-surgical catheters and balloons, or a combination of the two even during the same case.
"This hybrid OR allows better patient access, treatment flexibility and ergonomic comfort our board-certified vascular surgeons need during simple or complex procedures that we perform throughout the body," explained St. Luke's Chief of Vascular Surgery Timothy Oskin, MD. "This combination of state-of-the-art radiologic imaging and manipulation capabilities provides a safer and more precise patient treatment that is also less physically arduous for the surgeon."
"There are various types of cases where we might have to approach the problem from different directions. A room like this allows us that flexibility. We can now perform procedures with smaller or no incisions thus reducing the risks of infection and other complications which will then reduce.