News
St. Luke's Helps Former Body Builder Regain Her Strength after Rare Pec Tear
January 28, 2019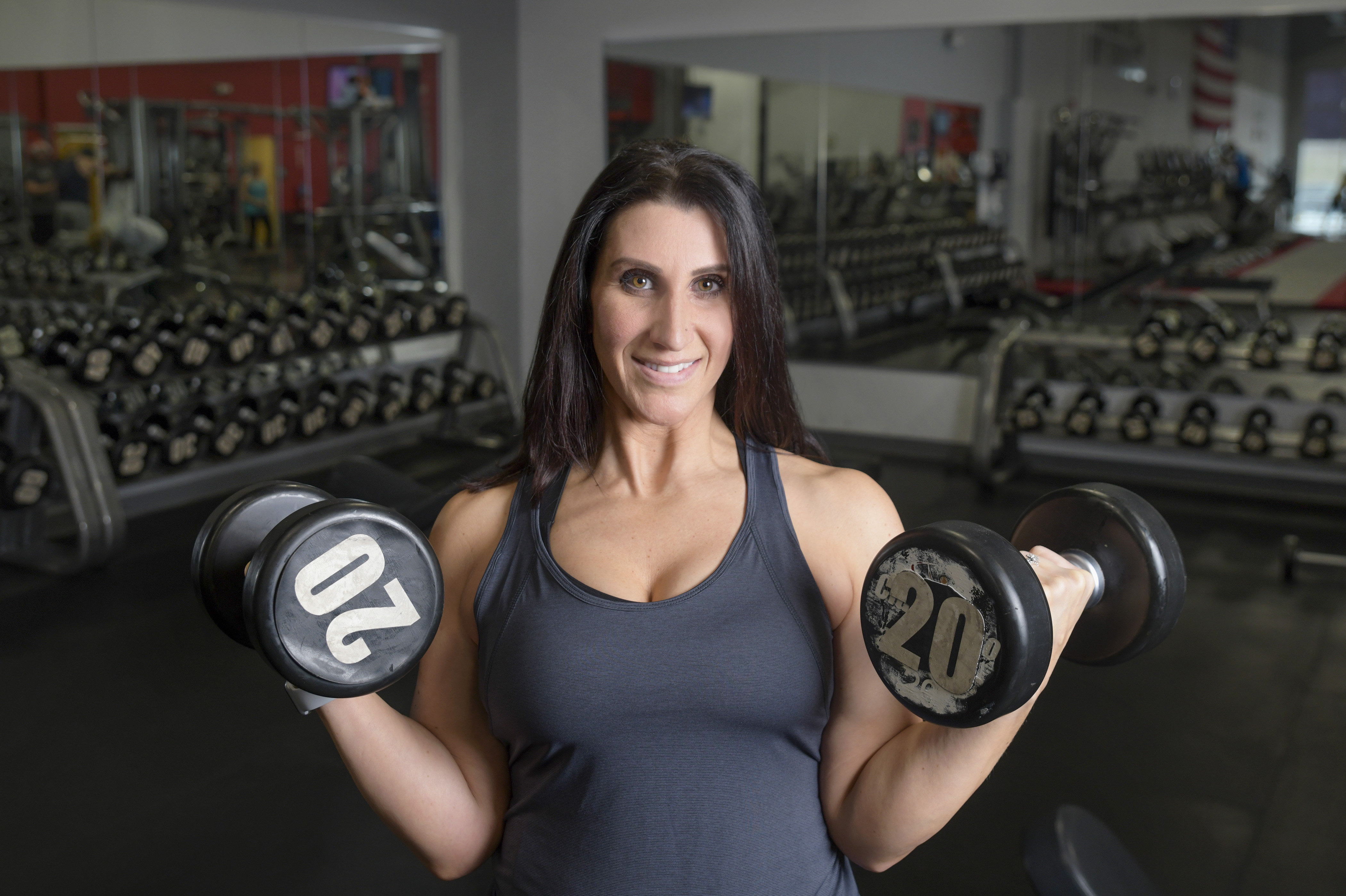 For Jill McWilliams, that Friday workout in July of 2014 seemed like any other normal exercise routine. A former national class bodybuilder with several state titles and national rankings when she was Jill Izzo, the now-married athlete had switched her sights to Crossfit.
Bench pressing two 40-pound dumbbells was simply part of her normal routine, but something went drastically wrong – an extremely rare and serious pectoral detachment from which she has since recovered with the help of St. Luke's extraordinary orthopedic care.
"I was feeling strong,'" she remembered of that fateful workout at Club Metro in Phillipsburg. "It wasn't a big deal, and then I don't know what happened. I went to go put it up and I felt a huge pop. I thought what the heck is going on here?
"When I went to put the weights down, I lost all strength in my arm," Jill, now 36, remembered. "I thought I'd shake it off and I'd be fine. I went to grab the weights for a second set and lost all feeling in my arm. I could see the bruising. I thought, 'This is bad.' "
Despite experiencing great pain, Jill, who works out twice a day, six or seven days a week, drove herself to the hospital for X-rays, which didn't reveal much. The next morning there was even more pain and bruising, so she immediately called orthopedic surgeon Nicholas Avallone, MD, of St. Luke's Orthopedic Care.
Jill, a high school physical education teacher at North Hunterdon High School, is also a certified athletic trainer and had worked with Dr. Avallone at Delaware Valley High School.
"I knew he was phenomenal," she said.
Dr. Avallone set up an emergency appointment with her on Monday, and after examining her ordered an immediate MRI, which revealed a complete tear of the right pectoralis major muscle from the bone, something Dr. Avallone had never before seen in a woman.
"It's extremely rare in women," Dr. Avallone noted. "Only one other woman had been listed in the literature as having suffered a torn pectoralis tendon. We were pretty fortunate to have identified it on her so quickly because it can be debilitating."
Reading the MRI correctly was the key, but so too was Jill's own awareness of body. She has a Master's in Exercise Science, and her experience as a bodybuilder, athletic trainer and Crossfit competitor all played a role in demanding an answer for what she knew was a severe injury.
Dr. Avallone performed the surgical reattachment that Thursday.
"This type of injury requires almost immediate surgery in order to restore function and range of motion," Dr. Avallone said. "She tore it right off the bone. That's a very impressive injury."
"I wasn't done competing at Crossfit at the time, and if you don't fix it right away, it wreaks havoc on your range of motion," Jill said.
She began physical therapy just a few days after surgery, but even before that, she had her parents drive her to the gym so she could work cardio on a recumbent bicycle.
In addition to undergoing eight weeks of physical therapy with Physical Therapy at St. Luke's in Phillipsburg, Jill continued light works outs with the opposite side of her body to take advantage of a process called synesthesia, where working out one side of the body produces a sympathetic response to stimulate the muscles and blood vessels on the opposite side
"I tapped right back into that fitness training right away," she said. "I trained light on the opposite side, and was doing one-armed pushups."
After her stint with physical therapy ended, she began increasing the intensity of her workouts, paying close attention to the difference between being sore from a workout, or pain caused from a workout.
"She had early goals, and that helped her on her path to a great recovery," Dr. Avallone said.
In 2017, she not only competed in Crossfit, but won a competition in the Scaled division.
"I honestly had the best experience in surgery and rehabilitation," she said. "Dr. Avallone was amazing, not just in diagnosing something that almost never happens in women.
Later, when her family members needed help, Jill knew where to send them:
"I sent my mom to Dr. Avallone for an MCL injury and two years ago he also did my husband's Brandon's ACL, MCL and medial meniscus repair. And I recently referred a family friend to Dr. Avallone, who referred him to another St. Luke's doctor for a knee replacement."
Currently, Jill is pregnant with her and Brandon's first child, but she's still working out twice a day, avoiding overhead lifts and extreme jumping, and plans to compete in local Crossfit competitions once again after her son is born in April.