News
After Gruesome Football Injury, Phillipsburg Athlete and Cadet Thankful for Extraordinary Recovery with St. Luke's
November 21, 2017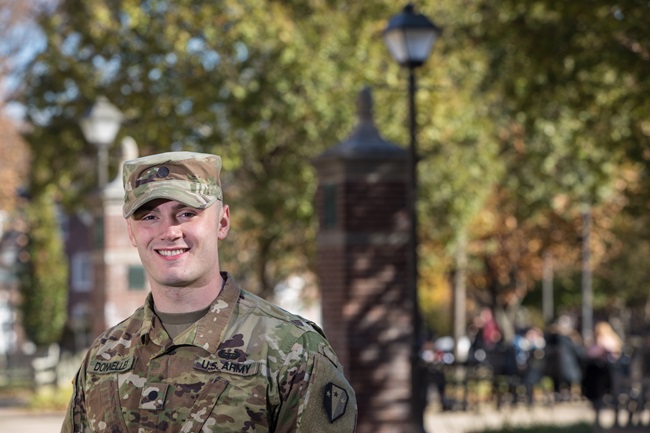 ---
Jack Donnelley turns 21 on Thanksgiving Day, and the former Phillipsburg High School football player still has fond memories of his senior year in the annual Thanksgiving Day rivalry with Easton, which will be played for the 111th time this Thanksgiving.
The Stateliners won that game 19-15, and Jack, a fullback and defensive end, played a big role. However, he may not have had the chance to play. The Phillipsburg football player returned from a devastating injury he sustained during his junior season, making him one of St. Luke's Extraordinary Athletes.
"It was Oct. 18, 2013. I remember that date very well," Jack says. He was playing fullback, making a kick-out block on a defensive end, and another player fell onto Jack's leg, breaking the tibia and fibula with a spiral fracture.
"I heard a crack and felt immediate pain and I knew it was definitely a pretty gnarly injury," he said. "Dr. Avallone met me on the field. It felt like hours because of the pain, but he was there immediately." Dr. Nicholas Avallone, an orthopedic surgeon with St. Luke's Orthopedic Care at the Warren Campus is the Phillipsburg team physician.
Nicholas J Avallone, MD
"Jack had a very devastating injury, and it was Homecoming," Dr. Avallone remembers. "I knew from the get-go he had a pretty significant tibia fracture. We got him to St. Luke's Warren Campus. We admitted him and scheduled him for surgery earlier than usual the next morning to fix his fracture."
While placing a rod into the tibia went relatively routine, Dr. Avallone noticed an unusual amount of swelling and took pressure measurements, recognizing "acute compartment syndrome," with all four compartments of the lower leg swelling with blood and fluids, a condition that can cause permanent nerve and muscle damage.
Dr. Avallone performed a fasciotomy, where the muscle fascia is cut to relieve pressure in order to save the leg.
"I remember them telling my parents that it would be like a 90-minute surgery," Jack says. "My parents were freaking out as the hours were ticking by. A nurse came out with good news; that they thought they could save my leg."
Jack's leg was saved, and he spent the next week in the Intensive Care Unit undergoing several plastic surgery-type procedures to close the fasciotomy, which remains open for a period to allow the swelling to go down.
Jack was wheelchair bound for the next month, when he saw his Phillipsburg team lose to a close game to Easton.
"I just wanted to get back to being a competitive athlete," Jack says. "I qualified for states in javelin in my sophomore year. I didn't want to be in a wheelchair. I wanted to be my normal self, not the hurt kid."
What Jack did next was extraordinary, with the help of St. Luke's physical therapist Andrew Fischer. Jack worked so hard that he made it back for his junior track season, gaining the confidence to place second at sectionals and qualify for states.
"Jack was so diligent about his therapy, completely driven," Fischer says. "He wanted to get better and back to his game. We encourage patients to do their exercises at home, and Jack did just that. His drive is a big part of why he had such a successful outcome."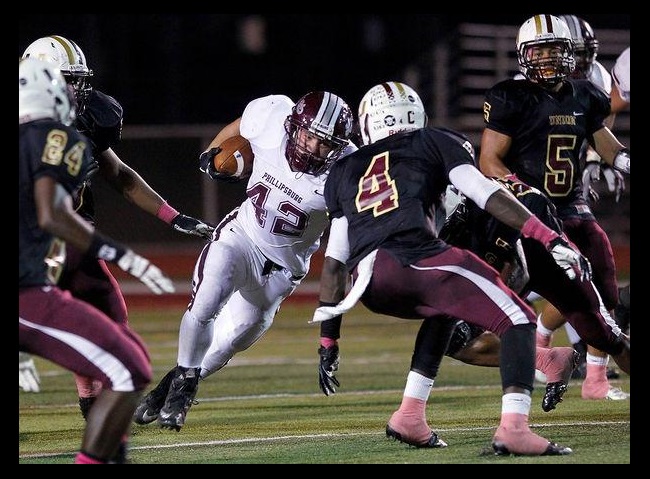 ---
And then came the big decision over the summer: to try football or not. After conversations with his coach, he went out and regained his starting spots, helping to lead the team to its first victory over Easton in his four years as a varsity player, and then on to the NJISAA Group 2 Section 4 title.
"What really got me through all this was the support of my family, my friends, my coaches and teammates, as well as everyone at St. Luke's. It was a lot of hard work, but I could not be more grateful because without them, I would not be where I am today."
Today, Jack is a student at the College of New Jersey in Ewing where he is a history major and part of the Princeton Army ROTC Army Education Program. He expects to graduate in May 2019 as a second lieutenant in the Army National Guard and pursue a career in law enforcement.
Media Contact:
Sam Kennedy, Corporate Communications Director, 484-526-4134, samuel.kennedy@sluhn.org
About St. Luke's
Founded in 1872, St. Luke's University Health Network (SLUHN) is a fully integrated, regional, non-profit network providing services at seven hospitals and more than 270 outpatient sites in the greater Lehigh Valley. The network's service area includes 10 counties: Lehigh, Northampton, Carbon, Schuylkill, Bucks, Montgomery, Berks and Monroe counties in Pennsylvania and Warren and Hunterdon counties in New Jersey. In partnership with Temple University, St. Luke's created the region's first and only regional medical school campus. Dedicated to advancing health education, St. Luke's operates the nation's oldest School of Nursing and 23 graduate medical educational programs and is considered a major teaching hospital – the only one in its region. Repeatedly, including 2017, St. Luke's earned Truven's 100 Top Major Teaching Hospital and 50 Top Cardiovascular Program designations, in addition to other honors for clinical excellence. St. Luke's is a multi-year recipient of the Most Wired award recognizing the breadth of St. Luke's information technology applications such as electronic medical records, telehealth, online scheduling and pricing information. St. Luke's is also recognized as one of the state's lowest cost providers.