Center for Positive Aging

St. Luke's Center for Positive Aging – Bethlehem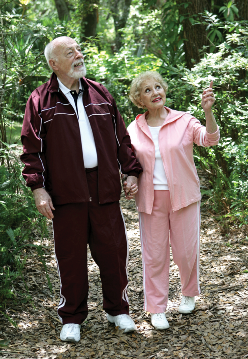 Locations
Bethlehem
St. Luke's North
153 Brodhead Road
Bethlehem, PA 18017
484-526-7035
Maps & Directions
Specialized services and care designed for seniors
St. Luke's provides a positive aging experience for older adults in our community through specialized services and care designed for seniors. We recognize that with age, comes unique needs and challenges. We are here to help seniors and caregivers get the most out of life, with a wealth of programs, classes and tools designed by geriatric specialists.
Services by St. Luke's Senior Care Associates
St. Luke's Senior Care Associates brings together a specialty team of geriatricians, nurse practitioners and social workers to provide consultations, comprehensive evaluations and recommendations for senior care.
Our team works with patients, family members and family physicians to evaluate the patient's physical, emotional, social and functional needs and assist in planning for their future. Our services are provided in combination with primary care, with a full medical report given to the family physician.
Consultations
Our specialists are available to provide guidance on senior care and caregiver issues. We provide patients and caregivers with easy access to the information and community resources they need, including assisting with making appointments with social workers to further address any concerns or needs of the patient and caregiver.
When to Consider an Assessment
An assessment can help diagnosis and address problems so that a longer, higher quality of life may be sustained. It is not always easy to recognize when help is needed. Consider the following areas when determining the need for an assessment:
Has there been a decline in physical and/or mental health?
Are there issues with maintaining daily living skills?
Has there been an increase in frequency of falls?
Has there been a decline in appearance and hygiene?
Have multiple medications been prescribed?
Has there been a change in management of finances?
Is there a proper support system in place?
Our goal is to keep our patients functioning at their highest emotional, social and physical level and to remain independent and in their own, familiar environment whenever possible.
Dad wandered out of the house last night dressed only in his pajamas. It was pouring rain. Thanks goodness the neighbor called me. I don't think he should be living alone - Read Full Story »
What to Expect out of an Assessment
The senior assessment will assist our healthcare team in understanding the patient's medical history, health condition and needs. Senior assessment services consist of:
Physical Examination: The patient will receive a complete physical examination, including functional and gait assessment, by the geriatrician and nurse practitioner. During the physical, the social worker will meet with the family to assist with questions and concerns.
Psychological Testing: A staff member will administer psychological testing including screenings for depression and memory loss as well as the Mindstreams Cognitive Health Assessment, an advanced scientific computerized test to assist with diagnosing and treating cognitive problems. *Mindstreams Cognitive Health Assessment may be completed independently of the full senior assessment.
Diagnostic Testing: Upon completion of the physical exam and review of patient records (provided by the patient's family physician), further testing (i.e. laboratory studies, MRI, x-rays, etc.) may be ordered and will be determined on an individual basis. These tests will be discussed with the patient and family.
Care Coordination: Team members will review findings from the family physician and the assessment; a patient care plan will be developed to meet individual needs and will include identified problems and recommendations.
Family Conference: Team members will meet with the patient and family members within a few weeks after the assessment to discuss findings and recommendations. A full medical report is then sent to the family physician for review and follow-up.
Schedule an Assessment
Whether you are concerned with general competency, memory loss, managing multiple medications, living alone or are interested in a base-line evaluation, you may contact St. Luke's Senior Care Associates directly for an appointment; a physician referral is not necessary. The senior assessment services are covered by Medicare.
Mindstreams Cognitive Health Assessment*
Did you know memory loss is not a normal part of aging?
Are you or a loved one experiencing problems with such things as memory (especially short-term), concentration or language?
St. Luke's Center for Positive Aging has testing available to assist your physician with diagnosing and treating these cognitive problems.
The Mindstreams Cognitive Health Assessment is our advanced scientific computerized system that can be self-administered or given by a member of our healthcare staff.
At the completion of the testing, a full report is sent to your family physician.
This testing is covered by Medicare and most other insurance plans.
*Mindstreams Cognitive Health Assessment may be completed independently of the full senior assessment.
Meet our Team
Physicians

Nurse Practitioners

Nolan Moyer
Denise White
Marge Edgar

Practice Coordinator

Social Worker

Medical Assistants

Marcene Cooper
Ashley Tallaksen

Network Administrator for Senior Care

Network Director for Senior Care